What Exactly is SEO and How Does it Work?
First of all, let's learn real quick what SEO is, what it does, and how it works. SEO stands for Search Engine Optimization. It is the process of optimizing a website so that it performs well in organic search results. Ranking high for search terms, which are known as keywords, increases the visibility of a website and leads to a higher number of visitors to the actual website. When working on SEO for your website, you're basically optimizing your content, keywords and your entire web experience for search engines, web spiders, and crawlers.
An important aspect of SEO is making your website easy for both users and search engines to understand. Search engines have become very sophisticated in the past few years. They are becoming more and more refined to think and scan websites like a human. Making sure that websites don't fill their website with just keywords instead of useful information that's easy to read and understand.
What Are Search Engines and Spiders?
Search engines are your Google, Bing, and Yahoo. Those are the most popular search engines out there. Nowadays there are a lot of search engines and different types of browsers. Social media platforms have search engines integrated into their systems, like Facebook or Twitter. Facebook is a search engine in itself. Have you noticed all the content, business pages, and Facebook Shops that are currently on there now? It has grown immensely and the Facebook search function has become an integral part of Facebook's ecosystem.
Your website needs to be optimized for these spiders crawling your website and submitted to search engines. Without Search Engine Optimization, your website basically sits there without being discovered online. SEO helps your website, business, products and services to be discovered by your target audience.

1. SEO Is An Investment
The internet has changed so much within the past 10 years. No longer do we have dial-up internet that takes minutes for a single web page to download. We remember those days, don't we? When we had to hear that noise of the internet successfully connecting and waiting for a web page to come up after that.
Those days are long gone. The world wide web has grown into a money making machine. There are thousands of businesses marketing their business, advertisements pop everywhere you go. There is money to be made out there and if you're not capitalizing on that sales funnel, you're losing money.
2. SEO Increases Your Online Visibility
Not only does a website increase the visibility of your business, it also increases the online presence of your products and services. There are people out there looking for the types of services or products that you offer, you just have to optimize your website to target those people. Hiring a marketing company is a good way to start growing your business without having to hire employees.
Try our Complementary Website Audit Tool
Get a FREE Website SEO Audit
We're now auditing your website.
Your Site Audit report will be sent to your email within an hour.
You can audit another site
3. SEO Is A Long-Term Strategy
SEO takes some time for it to start working. Content is one of the most important factors to consider when optimizing your website for search engines. It takes some effort and time to build your content and pages. The more presence you have online, the easier your company website will be found on search results.
We've mentioned it before, your website will display your products or services online for the world to see. If you don't have a website, your business won't show up on search results and if you don't spend the time and money to market your business, you won't sell your products online. You'll be missing on a lot of sales. It's as simple as that. Sure, you can have sales guys and do B2B sales, but why not expand your reach by targeting prospective clients in different areas?
4. Get Ahead of the Competition
If you have a website don't expect it to start selling your products instantly. The internet has become the go-to place to make purchases because it's convenient. People don't want to drive and spend hours shopping and driving. It's easier to shop from home and save time and money as well. For that reason, many businesses advertise their products and services as as they can. The competition is out there and as business owners, we must invest in marketing. Otherwise, we'll fall behind the competition.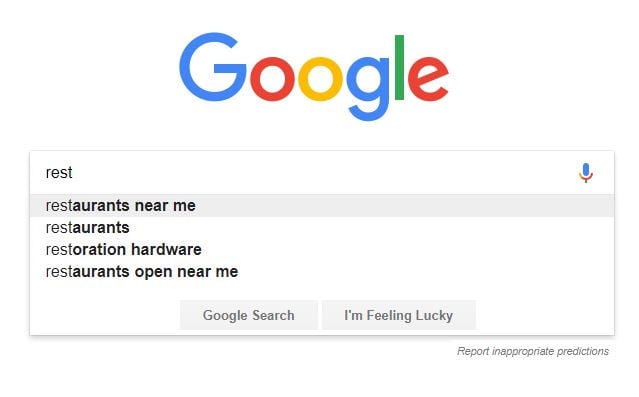 If you were to search for a place to eat, you simply "Google it" right? At least most of us just search for places either on our phones or on our computer because it's so easy and convenient. If you're restaurant is optimized for local visibility, chances are that your optimized location will come up on the search results, depending on the location your prospective clients are searching. This is what you need to think about when getting ahead of the competition. There are many different businesses advertising all over the internet. Mobile devices have become one of the most popular gadgets to use when making purchases, search for products, services, or businesses. At The Design Agency, we understand how important Search Engine Optimization is and we research your competition before starting on our SEO strategy.
5. SEO Develops Brand AWareness
Ranking highly in the search results signals to searchers that you're a key player in your industry. Conversely, ranking on the second or third page may lead to unwanted assumptions: that you're a new business, that you're not as well known or that you don't have the budget (and thus sales) to afford to boost your rankings.
6. SEO Helps Search Engine Rank
Ranking highly in the search results signals to searchers that you're a key player in your industry. Conversely, ranking on the second or third page may lead to unwanted assumptions: that you're a new business, that you're not as well known or that you don't have the budget (and thus sales) to afford to boost your rankings.
7. SEO Saves You Money
Through SEO you can increase your reach in less investment. Even the paid campaigns do not require a lot of marketing investments. Your marketing budget can be in control and you can use that money for other purposes.
So much is spent on advertising, and while print advertising does have its place, and there are reasonable print ads that produce results, nothing can compare to online marketing. Optimizing your website for search engines should be a priority for any company that wants their business to grow. Search Engine Optimization is much more cost effective because you are promoting your product to the actual people looking for your product.
For example, if you offer a product or service that people can find by searching the internet, they are much more likely to visit your website if you are on the front page of a search engine. If you are found on page 23, or can only be found under your company name, you are not likely attracting the potential customers as you should be. Instead, by using SEO to increase your status online, you could be much easier to find, therefore increasing the likelihood of a "conversion" or sale.
If you come up first place due to SEO or at least make it on the first few pages for specific terms, you not only increase traffic, but you increase the likelihood that online users will visit your website and purchase your product or service. So, while SEO may seem costly, it's worth much more than traditional advertising or marketing efforts.
8. SEO Increases Sales
A good traffic on website will ensure more sales and this is the great way to boost your sales. Search Engine Optimization makes it easy to grow website traffic which results in increased sales.
Proper SEO will boost your sales, no question about it. Think about it for a moment: if more potential clients found your website do you think that would result in more sales? Of course it would, that is the nature of advertising. Position your business in front of the correct audience and watch sales increase. If more potential customers and clients see your site, it will translate into more sales. With the entire population connected via the Internet, it makes it very important to be founds online. SEO is the most effective way to drive sales and revenue for your business.
9. SEO Increases Online Visibility
If your business is positioned highly in the search engine results it will become an authority resource in the eyes of the consumer. As an example lets assume that you are a dentist located in Miami, Florida, and have not implemented SEO into your marketing. As of right now your website is found on page #12 of Google for the term "Miami dentist." Now, chances are the consumer searching will never even find your website. Many people rarely even scroll down page #1 to see results, let alone even search beyond the first page. That consumer is going to look at the top results and automatically associate those businesses as the leaders and best choices. If you want to be seen as the number one choice you need to be ranking on page #1. It is as simple as that.
10. Increases Website Traffic
With SEO, your website will receive not only increased traffic, but that traffic will be highly targeted based on relative keywords and search phrases. When developing a search engine marketing plan we research and identify keywords and phrases that are highly searched terms related to your business and location. Wouldn't it be nice to have your website appear at the top of the search engines for search terms related to your business? Consumers automatically consider the top results as the experts. We can help position your website at the top, driving high quality traffic, which can then be converted into revenue.
Conclusion
Executing SEO activities in strategic manner is a need of every business these days. To reside successfully in a competition and to have a rapid growth in business, you should have good SEO plan and team. It is the most important element of the branding of any organization and its online appearance. So if you have a quest of learning and executing internet based marketing solutions, then our SEO course in Delhi will lead you in the right direction and help you to gain advance strategies of Search Engine Optimization.
Do you need SEO services? Contact us Here.
Let's Start Marketing Your Business Today!